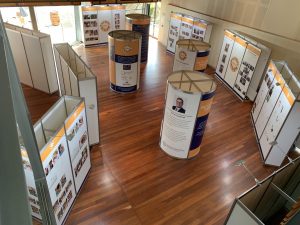 An exhibition of children's learning… A South Australian Collaboration.
Project Quattro's origin came as a result of our state understanding the idea of a 'prototype'. In 2015, Professor Carla Rinaldi told us that The South Australian Collaborative Childhood Project must have prototype services to further research the Reggio Emilia education principles in our local context and share this research with others.
Embracing this idea to its fullest we selected 18 services, ignoring Professor Rinaldi's specific recommendation to select a maximum of 4 services, highlighting our state's desire to be inclusive of all sectors and cultural institutions. Our intention was honourable, yet unrealistic.
Upon Professor Rinaldi's return to Adelaide in 2017, our focus was redirected and we were encouraged to choose 4 of the existing 18 services that highlighted an in-depth understanding of the Reggio Emilia education principles, and as a result, Project Quattro was born.
Project Quattro services:
have a deep commitment to researching the Reggio Emilia education principles to develop a local approach because they truly believe that Reggio Emilia Approach is not a blueprint
have the courage and openess to engage with other services and be active protagonists in a strong professional learning community
provide leadership throughout the state to share their research, educational documentation and learning's.
Like our children, Project Quattro had a journey to becoming a learning group and took inspiration from the following quote:
"… when children and adults are in groups, they also learn from and with others. In groups we encounter new perspectives, strategies and ways of thinking that enable us to learn from others. We also learn with others, modifying, extending, clarifying and enriching our own ideas and those of others." ('Making Learning Visible', Project Zero, Reggio Children)
Project Quattro is an engine of a new paradigm in education. Like a virus, their research outcomes are contagious within South Australia (and perhaps across Australia).
What is the Encountering New Perspectives: A South Australian Collaboration Exhibition?
The Encountering New Perspectives Exhibition is a forum for discussion, a place for promoting and discussing a new idea of childho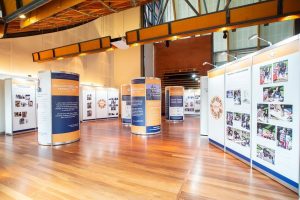 od, education and a new experience of citizenship.
The ongoing research of Project Quattro throughout 2018 paved the way for this first, uniquely South Australian exhibition, highlighting our ongoing commitment to providing leadership in demonstrating approaches based on the Reggio Emilia education principles.
The cross-sector learning community of Project Quattro illustrates the uniqueness of our state's education sectors to look beyond their own backyard in search of quality early childhood education and the exhibition gives visibility about the culture of childhood, the rights of the child as citizen and the power of group learning in South Australia.
The exhibition aims to evoke change, asking visitors to have courage to make pedagogical, cultural, social and political decisions to uphold the rights of each child and to make visible the competent child, the competent teacher and the competent parent in their services.
Visiting the Encountering New Perspectives: A South Australian Collaboration exhibition
The South Australian Collaborative Childhood Project is proud to announce that the exhibition will travel to Port Augusta between 25 October 2019 – 22 November 2019 and be showcased at the Port Augusta Cultural Centre – Yarta Purtli.
Refer to the events page for further information.
Hosting the Exhibition

The exhibition can be released to organisations for hire.
Minimum Duration: 1 month
Cost: Price upon application
Contact: Reece Turtur, Project Officer, Early Childhood Services on reece.turtur@sa.gov.au or 08 8226 0084
The South Australian Collaborative Childhood Project wishes to thank Adelaide Expo Hire, All Occasions Group, National Wine Centre and Mixed Mediums for their support and service in putting together the Exhibition and Symposium.