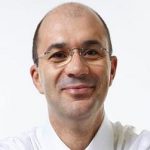 Mayor @ Reggio Emilia
Born and raised in Reggio Emilia, Luca was an athlete, technical and executive in the world of sports association.
He graduated in Business Economics at the University of Modena and Reggio Emilia and is a chartered accountant and a statutory auditor.
He was elected for the first time in Sala Tricolore in 2004, re-elected in 2009 on the Pd list with Delrio and from 2007 to 2014 was the leader of the Democratic Party in the City Council.
On June 5, 2014, supported by seven left-centre list, was proclaimed mayor of Reggio Emilia with 46,674 votes cast in May 25 elections, equal to 56.4%.