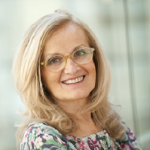 President @ The Foundation Reggio Children Centro Loris Malaguzzi, Reggio Emilia
Professor Rinaldi is a world leader in education for children in the early years.
She worked as pedagogist at Reggio Emilia Preschools and Infant-toddler Centers Direction, since 1971. She was scientific consultant of Reggio Children s.r.l., and, from 2007 to 2016, she has been its President. In September 2011, she has been appointed as President of Reggio Children – Loris Malaguzzi Centre Foundation.
Carla is also a Professor in the Faculty of Education at the University of Modena and Reggio Emilia since 2003.
Professor Rinaldi worked side-by-side with Loris Malaguzzi, the founder of the Reggio Emilia Approach, from 1970 until his death in 1994 in the municipal infant toddler and preschool system of Reggio Emilia, where she was the first pedagogical coordinator.
Carla has been working as pedagogical/scientific consultant for Reggio Children S.r.l. since 1994, following the supervision of all Reggio Children initiatives.
She was responsible for research projects in collaboration with Harvard University, the University of New Hampshire and the University of Milan – Bicocca.
Professor Rinaldi has been vice-president of the Gruppo Nazionale Nidi-Infanzia (National Early Childhood Association) and has had tenures as visiting Professor at the Webster University (St. Louis, Missouri) and at the Colorado University (Boulder, Colorado).
From 2004-2007, Carla Rinaldi was a member of the Reggio Emilia City Council. In 2007 and 2008, Carla Rinaldi was appointed as a consultant in several different Commissions of the Italian Ministry of Education. Carla Rinaldi has been a speaker at numerous seminars and conferences in Italy as well as in Europe, the United States, Australia and Asia.
In 2011 she was invited to participate in the Presidential Conference on Early Childhood Education and Care (ECEC) "Excellence and Equity in Early Childhood Education and Care", Budapest.
In 2010 she participated in the UNESCO World Conference on Early Childhood Education and Care "Building the Wealth of Nations", Moscow. Professor Rinaldi lectures frequently on the Reggio Emilia experience, and has published many articles, chapters, and books in Italian and English.
Professor Rinaldi was invited by the South Australian Government to be an Adelaide Thinker in Residence (2012 – 2013). At the close of her residency, she provided recommendations about strengthening early childhood across the state through the Re-imagining Childhood: The inspiration of Reggio Emilia education principles in South Australia report. The Report offers South Australians profoundly challenging questions to provoke the state's thinking about childhood. Professor Rinaldi continues to support South Australia in "re-imagining childhood."
In 2015 she was awarded with the 2015 LEGO Prize and she became a member of Advisory Board of the LEGO Foundation in Denmark.
In 2016 she was representing the Reggio Emilia School at the Memorial Celebration of University Professor Emeritus Jerome S. Bruner organize by New York University School of Law and she participated at The Arts and Passion-Driven Learning organized by Harvard Graduate School of Education.